The West Harris County Regional Water Authority (WCHRWA) was created by the 77th Texas Legislature to facilitate the shift from pumping underground well water to surface water in west Harris County.
In compliance with mandates issued by the Harris-Galveston Subsidence District (HGSD), the WHCRWA has:
Completed its Groundwater Reduction Plan certification
Successfully negotiated a long-term water supply contract with the City of Houston
Designed and constructed the transmission and distribution infrastructure to deliver surface water by 2010
Achieved the 30% groundwater reduction goal mandated by HGSD by 2010
WHCRWA is on track to comply with the HGSD groundwater reduction to 60% surface water by 2025, and 80% by 2035.
In 2020, WHCRWA was 35% converted for the permit year, with every gallon over 30% contributing to over conversion credits.
To date the WHCRWA has:
Designed, purchased easements for and constructed over 79.8 miles of new waterlines
Constructed WHCRWA Pump Station #1
WHCRWA delivers approximately 28 million gallons per day of surface water to 67 water plants
Converted 46 districts to surface water
Partnered with other regional water authorities to acquire, treat and deliver an additional 320 million gallons a day of treated surface water

The Luce Bayou Interbasin Transfer Project
Northeast Water Purification Plant Expansion Project
Surface Water Supply Project
Pumpage and Surface Water Rates effective 1/1/2022
Groundwater – $3.70/1,000 gallons and
Surface Water – $4.10/1,000 gallons
The fees above are wholesale rates charged by the Authority to well owners, utility districts and municipalities. The retail providers may modify the fees charged to their customers to cover such things as leaks in their system, fire hydrant use, etc.
Latest News and Updates
WHCRWA Admin
The July 13, 2022 Board Meeting will be held in person only at the Fry Road MUD Building.
The West Harris County Regional Water Authority (WHCRWA) has received a number of questions regarding the impact of COVID-19 on its water supply.  The Center for Disease Control (CDC) has issued a statement that the COVID-19 virus has not been detected in drinking water, and conventional water treatment methods that use filtration and disinfection, such as those utilized in the WHCRWA's system, should remove or inactivate the virus that causes COVID-19.
The WHCRWA's operator, Inframark, has compiled a variety of resources to assist answering questions related to the impact of COVID-19 on drinking water, which are available at https://www.inframark.com/covid-19/.   The WHCRWA's team will continue to actively monitor any developments and update this information as needed. Residents who have specific questions or concerns about their local water supply should contact their Municipal Utility District or other retail water provider directly.
Luce Bayou Interbasin Transfer
The City of Houston, WHCRWA, NHCRWA, NFBWA and the CHCRWA have teamed up to initiate the Luce Bayou Interbasin Transfer Project with the capacity to bring nearly 450 MGD of raw water from the Trinity River to Lake Houston and the City's North East Water Purification Plant (NEWPP).
NE Water Purification Plant Expansion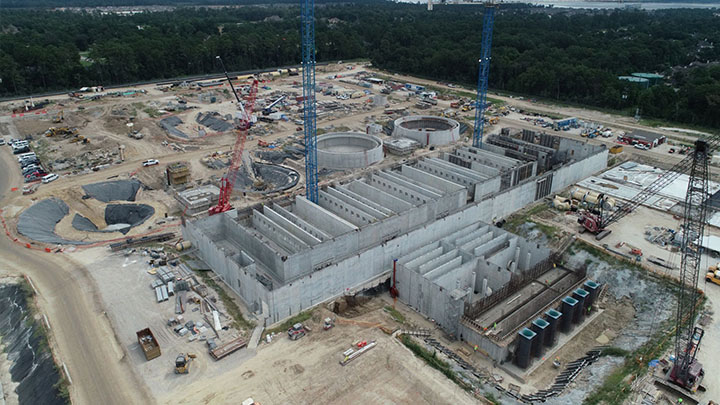 With the availability of more raw water coming into the Lake Houston reservoir, there was an urgent need for additional treatment capacity. The NEWPP project will be completed in phases over the next 6 to 9 years, increasing the treatment capacity from the current 80 MGD to a total of 400 MGD.
Surface Water Supply Project
The Surface Water Supply Project water pipeline is a joint project between the West Harris County Regional Water Authority and the North Fort Bend Water Authority carrying much-needed treated surface water from Lake Houston across almost 40 miles of Harris County to water users in the west.
Visit the Surface Water Supply Project website for more information
Introducing the Surface Water Supply Project