Water Conservation Education
When the West Harris County Regional Water Authority (WHCRWA) was created by the Texas Legislature in 1999, they faced an epic challenge. WHCRWA was tasked to secure the future water supply, construct the new water delivery infrastructure, and generate the funding to accomplish it – all within a set timeframe. The enabling legislation also required the new agency to "promote water conservation."
Back then, the residents within the WHCRWA's boundaries knew very little about the changes on the horizon…in the source, delivery and price of their drinking water. A massive outreach effort – that included newsletters, brochures, Town Hall meetings, public forums and early editions of this website.  Keenly aware that it wouldn't work to fix just half the problem, along with the coordination and construction of a new infrastructure, the WHCRWA also addressed the "demand" side of the issue. Almost from day one, a strong "use water efficiently" message was included in all communications efforts.
For more than a decade, the WHCRWA sponsored water conservation education programs for area students.  However, when the Covid-19 pandemic closed public schools, the on campus in-person assembly programs ended.
In October 2020 the WHCRWA launched a comprehensive online learning management system called WATER U.
WATER U is a online learning environment that features FREE "courses" on the critical water issues that affect utility districts and residents in WHCRWA.
WATER U allows participants to dive into the topics that interest them the most, providing timely and accurate information to help inform consumers about regional efforts to provide a secure supply of potable water for our communities today and into the future.
Irry Gator
Irry Gator first came to life as a mascot to promote the West Harris County Regional Water Authority's sponsorship of the Texas A&M AgriLife Extension's Water My Yard program in 2020. The Save Water Texas Coalition (SWTC) has since expanded the Irry Gator campaign to include a fully animated series of water conservation messages featuring Irry Gator and his friends JayB Blue and Wesley the Water Wasting Weasel. The Irry Gator program includes the SWTC's Water Less Save More slogan on billboards in select areas of Northwest Harris County, a dedicated website, social media engagement, billing inserts for municipal utility districts that are available free from participating water authorities/sponsors, and yard signs. An all new animated series of ads and irrigation-themed, water conservation messages that premiered in the Summer of 2023.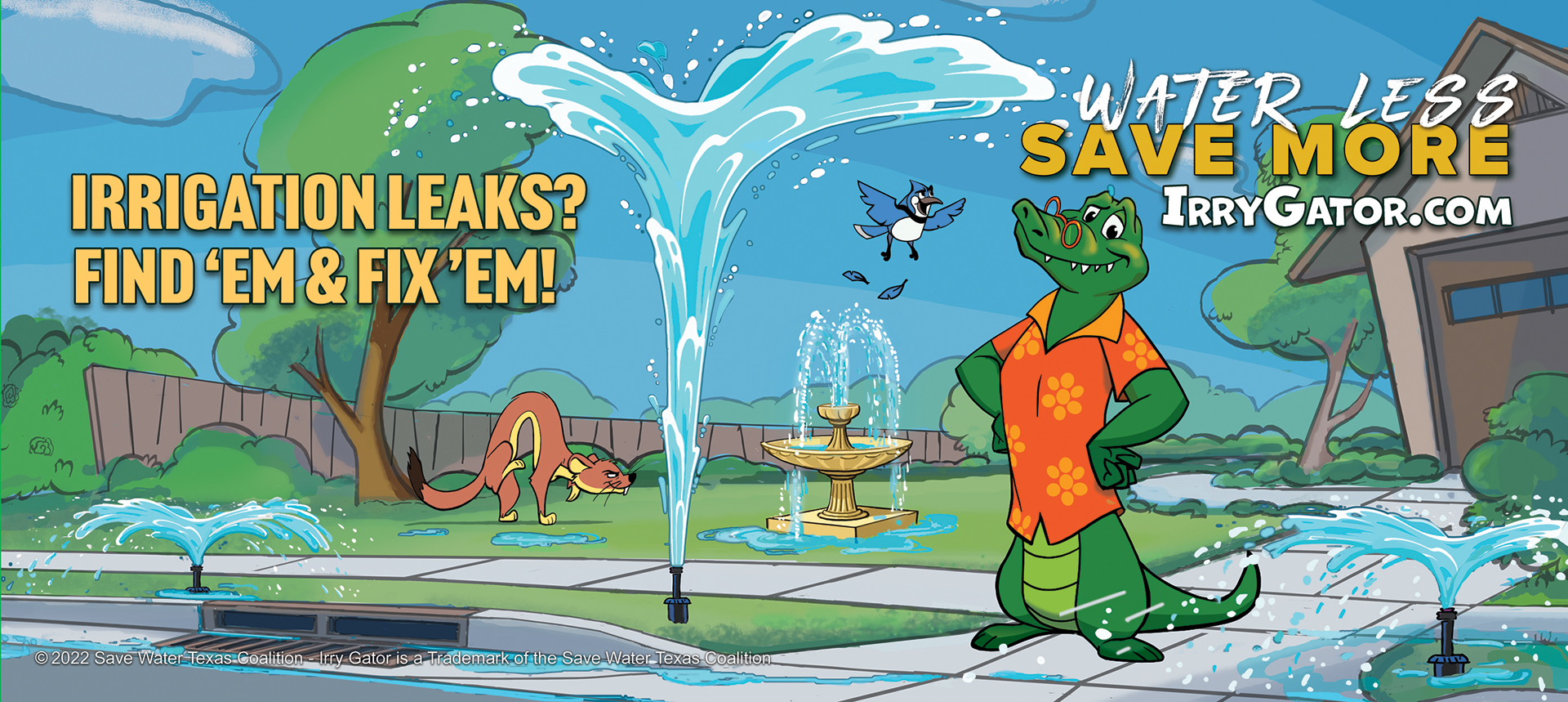 Patty Potty
Patty Potty is a 1950's housewife, a likeable messenger, armed with her pink plunger, and on a mission to put an end to "all kinds of things" being flushed down toilet.
Patty's message — NO WIPES IN THE PIPES — might be set in the 50's, but is vitally important in today's water-conscious world.
Check out the reimagined Patty Potty animated cartoon character, as she continues her crusade promoting sewer-friendly behaviors, utilizing an assortment of materials available through the Save Water Texas Coalition. "People are flushing all kinds of things down the toilet!" Patty points out. "It's not a trash can, you know! Some paper products and wipes are advertised as 'flushable' but they aren't. Sure, they will flush down, but they won't flush OUT. Wipes don't decompose… they get caught up in wastewater treatment plant screens and filters — and that costs money to clear and repair!"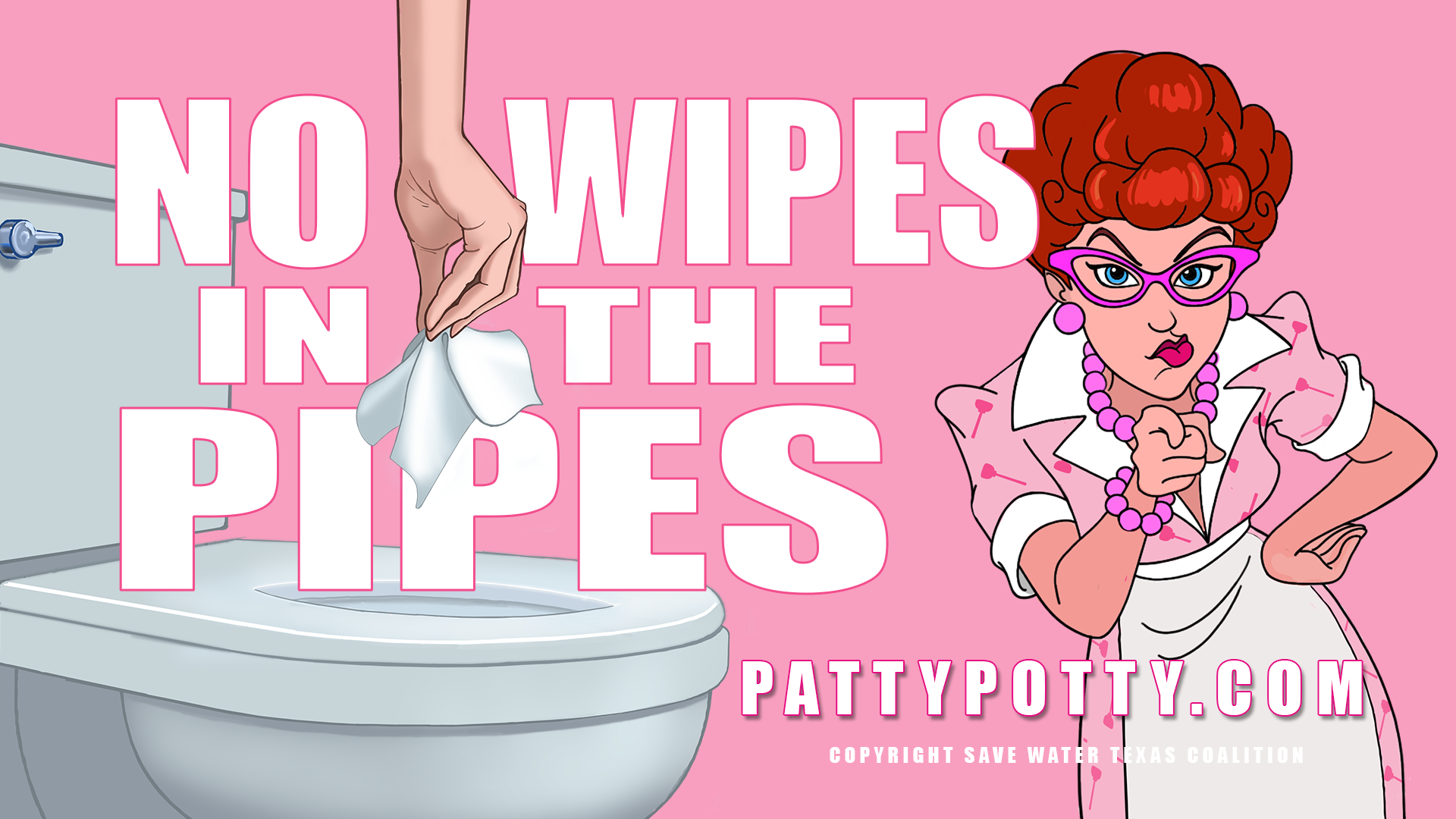 Mobile Teaching Labs
WHCRWA offers two Mobile Teaching Labs.
Water is Life Mobile Teaching Lab
Water Quality Mobile Teaching Lab
The mobile teaching labs are available to the Districts and educators  within the WHCRWA boundaries at no charge.
Water is Life Mobile Teaching Lab
Interactive layout
Focuses on the conversion to surface water
Participants take-away guide
Learn about the water cycle
Learn where our water comes from
Water conservation
Water Quality Mobile Teaching Lab
The Water Quality Mobile Teaching Lab contains information on:
Stormwater Pollution;
Fats, Oils, and Grease (F.O.G.) – Put Grease in its place;
Patty Potty, NO WIPES IN THE PIPES;
SCOOP THE POOP;
CAREERS IN WATER